Permanent link
11/28/2012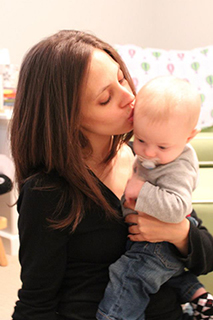 I always feel like Hanukkah sneaks up on us. With all of the hooplah surrounding Christmas—the decorations, the commercials, the transformed radio stations devoted to playing Christmas music round the clock—it's easy to see how Hanukkah and it's eight twinkling lights can get lost in the shuffle. On years like this one, when Hanukkah starts in early December (on the same night as YLD's Big Event—are you registered yet?), I tend to end up even further behind the eight ball. 
In years past, when I'm ransacking my kitchen for our menorah after sundown, still trying to remember when I stashed it the year before and scrambling to buy a few gifts which are usually tossed into a flimsy gift bag by night six, it just hasn't been a big deal. My husband was rarely home from work by candle lighting time, and although we had been married for five years, creating family traditions wasn't on the forefront of our minds. 
But this year is not like all the others. With a Fried-baby joining the family mix this year, the holiday season seems to have a bit more gravitas. While I know that he won't remember his first Hanukkah at six months old, I want to set the foundation for a meaningful and festive Hanukkah for the years that will follow.
I know that you can't just create traditions overnight. The whole meaning of tradition is that it is something repeated year in and year out, so lucky for Colin, we have time, and I don't just mean ten days.
But in this ten days, besides finding time to shop for gifts for Colin, digging out and cleaning the menorah early, I plan to reflect on my previous 27 Hanukkahs. 
Sometimes the family traditions are more subtle than opening a small gift each night, ranging from feasting on Grandma's latkes to reading a special Hanukkah-themed kids book with Mom and Dad before lighting the candles to volunteering as a family to hosting a $10 gag gift exchange with the extended family.
So while I might surf Pinterest for a picture perfect Hanukkah tradition inspiration that we can do together each year (or I might not...and let's be honest, it's looking a lot more like not...), I know that whatever we decide to do for my 28th Hanukkah and Colin's first will be special because we did it together.