Permanent link
11/12/2012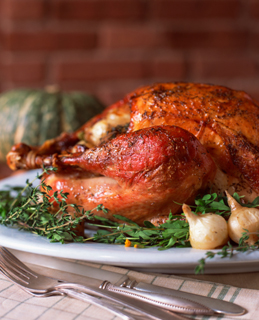 I was recently surprised to hear a friend tell me that she does not celebrate Thanksgiving. We were schmoozing over coffee and I asked about her plans for the day. She ticked off the usual expected items like: sleeping late, eating breakfast in pajamas, watching football, etc. I did not hear any mention of turkey or family and friends coming over. So I mentioned it. "Oh, I don't celebrate Thanksgiving," she said. When asked why, she replied, "well, it is not a Chag." I should mention that my friend is a modern orthodox Jew.
This is not the first time I have heard this. When SHALLOTS, my first restaurant, was on Clark Street, we offered a Thanksgiving Day menu complete with turkey and all the trimmings. A regular customer came in and was extremely upset that they were not able to order from the regular menu. I told him that we were featuring a holiday menu. He said, "Thanksgiving is not actually a holiday for Jews." 
I thought a lot about that conversation over the years and have quietly polled people regarding the American holiday and whether they celebrate it or not. 
I personally love Thanksgiving. It is the most American of all holidays. As a Jew, I especially love the holiday. It is the only holiday where I can eat a big fancy dinner and pile into the car and go visit friends or just drive around and look at the holiday lights. I can run to the store and pick up forgotten items and I can use the internet to check out pie recipes. I can, but don't watch TV or go to a theatre and see whatever holiday movie is playing. 
On Jewish holidays, this would not be possible. Thanksgiving levels the playing field for Jews and makes you feel just like every other American.
We have a ritual in our house on Thanksgiving. I get up early, brew a huge pot of coffee, pull out the BIRD to warm it up to room temperature and cozy up on the couch and watch the Macy's Day Thanksgiving Parade. I love the excitement, the floats, the marching bands and the whole hoopla.
When I had my restaurant in New York, I brought my kids with me to New York and we watched the floats being inflated at 2am in Central Park. There were crowds gathered and it was amazing. I also had the thrill of watching the parade right there in Columbus Circle. We loved it.
As an American Jew, I owe this great country my thanks and gratitude for allowing me to follow my religion and all of its dietary laws. I openly celebrate who I am and never apologize or hide. That is not the case all over the world.
As an American I also acknowledge our differences and the right that each of us has to celebrate or not.
Here is a classic Thanksgiving recipe— redone, pareve and delicious. If nothing else— maybe we can agree on the food?!
GREEN BEAN CASSEROLE-2012
1 pound fresh green beans, stem trimmed off
Extra virgin olive oil
½ pound mushrooms, sliced (I like to get really festive and use local mushrooms like chanterelles, royal trumpets or oyster mushrooms)
2 cups thinly sliced shallots
½ cup pumpkin seeds, toasted
For the sauce
3 cloves garlic, minced
2 tablespoons flour
1 cup white wine
1 cup vegetable stock
½ cup pumpkin puree, (I use canned)
Kosher salt and pepper
Preheat oven to 350
1. Toss the green beans with 3 tablespoons of olive oil and salt and pepper. Place the beans on a parchment lined sheet pan and roast them in the oven for about 20 minutes until they are slight browned-but still crispy.
2. Sauté the mushrooms in a large sauté pan, lightly coated with olive oil, over medium high heat until they are crispy and browned. Combine the mushrooms and green beans in a casserole.
3. In the same sauté pan, add about ½ inch of olive oil, and over medium low heat brown the shallots until they are crispy-this will take about 12-15 minutes. BE PATIENT! Combine the shallots and pumpkin seeds.
4. Heat a medium sauce pan over medium heat. Add 2 tablespoons of olive oil to the pan. Sauté the garlic just until it is soft (about 2 minutes). Add the flour and stir for 1 minute to get rid of the raw flavor. Add the wine, stock and pumpkin puree. Stir constantly until the mixture begins to thicken, about 5 minutes. Season with salt and pepper
5. Combine the green beans and mushrooms with the sauce. 
6. Sprinkle the casserole with the shallots and toasted pumpkin seeds. Bake the mixture until bubbly-about 20-30 minutes.