Permanent link
10/30/2014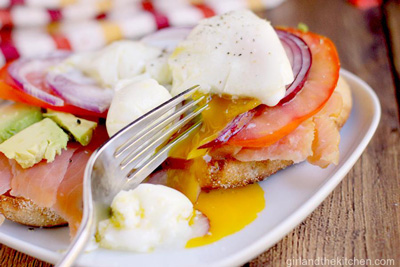 Hubs and I are both huge fans of breakfast.  In fact, lazy Sundays are some of my favorite days.
On a rare occasion, the munchkin sleeps over at her grandparents' house and hubs and I have our lazy Sunday mornings all to ourselves.
I relish those Sundays that we get to sneak away for breakfast together at one of our many local eateries.  I sip on my cream-loaded coffee while hubs asks the waiter about every single item on the menu and then decides he still needs a few more minutes.
It's the kind of morning where I can relax, chat with hubby about all the latest gossip and not worry that I will have a crayon torpedoed at my head by the giggling munchkin.
When it finally comes to ordering, hubs is usually teetering between a skillet of some sort or the classic lox and bagel combination.
Typically the skillet wins and as he mops up the list bit of egg yolk with his toast he says, "You know what would be good with this?  Lox.  Lox would have been good."
So on a Sunday that was not so lazy for me, after I spent the better part of the morning chasing after munchkin and arguing over what she is having for breakfast she had finally exhausted herself and was ready for her first nap.
Typically this is the time that I get to sit down and enjoy a cup of coffee in peace.  But then hubs woke up (he is late to rise) and he said he was hungry…and he wanted me to surprise him.
In no mood whatsoever for creativity, I glanced through my end-of-the-week almost empty fridge and sighed.  What's a girl to do?
I stared at some leftover lox, a whole wheat English muffin, some veggies and 2 eggs.
No skillets were to be had today.  None at all.  We had better things to create.
Since hubs always wanted his eggs with his lox…I figured why not give it to him!
The smoky and salty salmon I had leftover was going to be perfect against a creamy egg.  And add it all on a whole wheat English muffin, I say we have some pretty tantalizing eats!  Not to mention clean eats!
And what better way to eat a salmon and egg sandwich then with the most delicate egg of all: the poached egg.
Smoked Salmon Eggwich
Ingredients
2 square foot sized pieces of saran wrap 
2 ramekins
a few drizzles of olive oil
2 whole eggs
1 whole wheat English muffin cut in half and toasted
4 oz of smoked salmon
2-4 large slices of beefsteak or heirloom tomatoes
a few rings of red onion slices
half an avocado, sliced
salt and pepper to taste
2 tbsp of vinegar
Instructions
1. First you need 2 foot size square pieces of saran wrap and 2 ramekins.
2. Place the saran wrap into the ramekins and dribble a bit of olive oil into it.
3. In the meantime, add 2 tbsp of vinegar to a pot of water with about 4 inches of water in it. Bring it up to a gentle simmer over medium heat.
4. Crack one egg into each ramekin. Now you see why we use the olive oil? It is going to help the egg from sticking. Feel free to sprinkle some salt and pepper on it now, or you can do so after. Up to you.
5. Gather all four corners of the saran wrap and tie it. You are creating little egg purses :)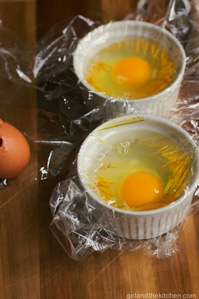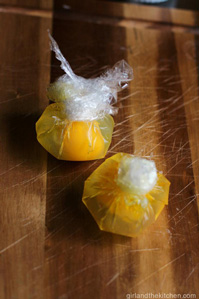 6. Once your water is simmering. Drop in your little purses of eggs into the water and let them cook for 3-4 minutes. I like mine a little tighter so I let them cook the whole 4 minutes.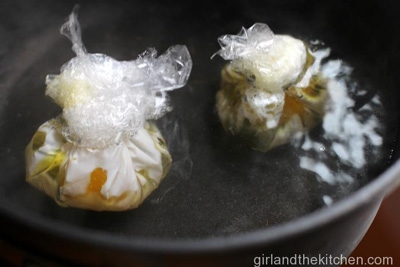 7. While those puppies are boiling away...toast your English muffin (I prefer the 100 calorie whole wheat ones). Slice up a nice juicy tomato. A few rings of red onion and just a few slices of avocado will do ya'. And you will need about 2 pieces of smoked salmon per piece of twist, so about 4 oz.
8. Remove the egg from the water with a slotted spoon and place it on a cutting board. Cut the saran open by snipping the top off.
9. Start making your sandwich by first placing the smoked salmon on the toasty bread, followed by your avocado slices, tomato slices and onion rings.
10. Slowly, place your poached egg on top and sprinkle with salt and pepper if you have not yet done so.
11. And let your eager hungry hubby break the yolk :) Liquid sunshine on a plate.