Permanent link
10/29/2014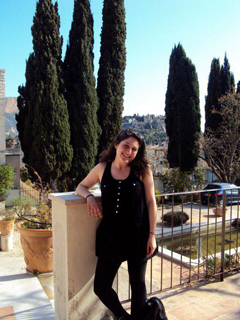 There's something about the stories we share – from person to person, taking part in one of the world's oldest traditions. A few weeks ago, I was reminded of the power stories have to captivate, to illuminate. What am I going on about? Let me start at the beginning.
Recently, I've constantly been hearing that the "live lit" scene is exploding in Chicago. I've been instructed more than once to, "Go to The Paper Machete at Green Mill!" My curiosity regarding the scene was piqued. Enter an invite from my trusty Oy!Chicago editors to check out a live lit/storytelling event entitled "Guts and Glory." I didn't know what to expect. A little inspiration, perhaps?
So on a Wednesday night I walked over to Schuba's. As I enter it buzzes with a quiet energy. The dim, twinkly lights seem to say, "Fall is here, might as well partake in an amber-hued ambience." I climb the stairs and take a seat. Over the next hour or so, the audience is treated to a treasure trove of stories running the gamut from humorous, every-day observations to deeply personal, wrenching tales with a little bit of everything in between.
The five or six Chicagoans (including Chicago transplants) sharing their stories light up the room with wit, live-wire energy, and a sense of thriving in the moment. Everything about it feels analog and present, a trip to a slightly different time. Though some participants read from their iPads, the gestures and intonation of each performance charm and entice the audience in the manner of  a live theater show. The event is a raw, unaffected display of heart, guts and glory (pardon the pun). I feel 16 again, sitting in playwriting class and taking in the creations of my fellow students. (And I mean that in the best way!) In the manner all possibilities can be explored, every idea can be expounded upon, every story is a jumping off point for thousands more. It's that one-of-a-kind feeling live theater bestows on its audience.
Witnessing storytellers relay their creations in real-time, complete with wildly emotive facial expressions is something special. I quickly grew enamored of this "live lit" thing. As a spectator, my little writer/actress mind shook awake. What would I write? As the last reader takes the stage, she shares a story so funny, poignant, irreverent centered on one of the most universal topics around: a mother/daughter relationship. She commands the stage as she flips through the pages of her book and reads aloud. After the evening finished, I pondered quietly. How to create an experience, a story so multi-faceted, so real, so warm, so engaging? I'll just have to learn by attending more live lit events.
In fact, Oy!Chicago is hosting a live lit event called "Oy! Let Me Tell You …" on Nov. 19. You should come! It's at 7 p.m. at Matilda (3101 N. Sheffield Ave.) and I'm contemplating tossing my hat in the ring. What will be the story I tell? Will it be full of lively, well-refined pizzazz? A touch of sassy chutzpah? Will anyone learn anything from it? Who knows? I'm looking forward to putting pen to paper, and perhaps getting up in front of a live audience.