Permanent link
10/26/2012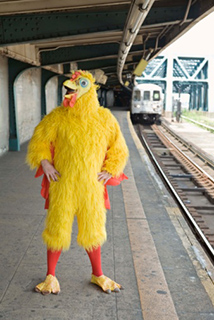 This week, I was working in the JCC Camp Chi office helping to jump start registration. This is an annual campaign that camp holds where former staff members come in and help reach out to families about registering for the upcoming summer. During the first night of the campaign, we took a pizza break for dinner and ended up discussing what was on most of our minds: the upcoming festivities surrounding Halloween. The group was a mix between seniors in high school, college students, and those of us who had graduated from college or masters programs within the past few years. For the few of us who graduated from college last year, this weekend will be our first Halloween as adults, our first awkward Halloween as "real people."
In both high school and college, Halloween was pretty straight forward. I never really had to deliberate about my plans. I dressed up for school in high school and celebrated over the weekend, sometimes even attempting to trick-or-treat. In college, everything seemed planned. You either went to the same 18+ bar that everyone you knew was going to and bought tickets in advance, stopped by one of the many house or apartment parties and fraternity parties happening on campus, went to visit your friends at a different school, or as you got older went on a bar crawl through the city. Although you had to decide which option or options you were going with, there were always clear cut options when planning your itinerary so to speak.
As for costumes, there is a famous scene in Mean Girls where Cady, the main character, is unaware of the Halloween culture in America and comes to a party dressed in a scary costume. She soon learns that rather than dressing up as ghost, most girls live by the mantra that "Halloween is the one night a year when girls can dress like a total slut and no other girl can say anything about it." To be fair, this does a great job of summarizing Halloween from a birds-eye view at any university. However, before I continue, I must defend my costume choices, which have 99% been cute, creative, and far from scandalous, ranging from Batman, Luigi, a Pokemon and Chuckie Finster from Rugrats, to Jelly, Spice Girls, and the ever-so memorable experience of being a ballerina with the rest of my pledge sisters freshman year. It is fair to say that many people use Halloween as an opportunity to wear as few clothes as possible. However, once you enter the phase of your life where you are considered an "adult" (and yes this still gives me the chills to even say that), does that fly? What are the social expectations surrounding this holiday?
First off, who do you even dress up with? If you have scattered groups of friends rather than a core group from high school or college, who do you dress up with? What do you wear? Do people dress up? What kinds of costumes are appropriate once you are 22 and older? If you do dress up, do you go to a bar in costume or do you have to find a Halloween themed house party? If you go out, do people dress up at every bar or just places that are having Halloween celebrations? What do you do if you don't know anyone throwing a party? Do you celebrate over the "Halloweekend" or the night of…or both? Is it going to be awkward? These were all questions that were thrown out as we laughed about the social stipulations, continued to think about our plans for this weekend, and most definitely agreed that it would somehow be considered an awkward celebration.
However, this conversation delves a little deeper than simply considering your Halloween plans and if your life choices correlate with your age. More so, it reminds me that almost every day I find another opportunity to realize that I am still transitioning into the "real world," rather than flourishing in it. As things change, you can't expect to have all the answers and sometimes this is awkward and even uncomfortable. If we can't even figure out our Halloween itineraries, do you really think we know what we want to do with the rest of our lives? Absolutely not. This year, and the few years following college for that matter, is a time for growth, to try out new things, adapt to change, and most certainly make a few awkward mistakes while adjusting to a new aspect of reality. That is all part of the process of growing up, a concept that I am still far from a fan of, but learning to deal with a little more each day.
So, as for Halloween, I decided on dressing up with some of my friends from camp in cute, comfortable, and creative costumes drawn from movies made in the 90s and early 2000s. We're going with the flow and although we're lacking a clear-cut plan, we're hoping for the best, a fitting attitude for this weekend and beyond. I'll just have to see where things take me without a planned agenda.