Permanent link
10/14/2014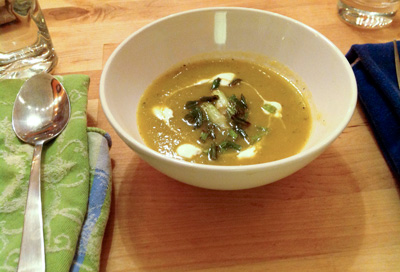 So it's fall. And everything is wonderful. You are wearing cute fashion boots and your lips are not yet cracked and bleeding from wind. You want to eat something cozy, but not insanely heavy like all of the casseroles and potato/cheese/cream-based dishes that are waiting for you right around the corner in winter vortex land. It needs to be hearty, but it also should be bright, relatively healthy, and it should include maximum condiment opportunity.
Here it is! It's soup, which means it's autumnal, but it's squash without being orange. Never heard of chayote squash before? You've seen them. They look like little old green men hiding out in the produce section at the market. And they are delicious. And bonus, you don't have to skin them like you do with other (totally over-played in my opinion) winter squash. Just make sure to remove the core!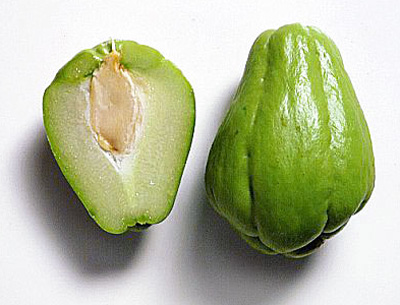 Chayote squash have a core that must be removed before you add them to the soup.
And the pepitas (aka, pumpkin seeds), well those are the crunch-factor that all good soups need, and they are also a playful take on using squash in two ways. Clever, right? I thought so too. Enjoy!
Chayote Soup with Spiced Pepitas
Serves 4-6
Vegetarian (but easily made vegan)  
For the soup
oil
1 large yellow onion, chopped
2 large carrots, peeled and chopped
6 cloves of fresh garlic, chopped
4 chayotes, core removed and chopped
1 jalapeno, chopped
3 tablespoons of salt
3 tablespoons of pepper
1 tablespoon of garlic powder
1 tablespoon of onion powder
1 tablespoon of dried oregano
2 boxes of stock (I use veggie, but chicken would work well here too)
½ stick of butter
Optional: sour cream. fresh cilantro, and lime wedges to garnish
Heat enough oil to coat the bottom of a large stock pot. Throw in the onion, carrot, fresh garlic, and jalapeno and cook them until they begin to soften. Add the chayotes, all of the seasoning, enough stock to cover the ingredients by about an inch, and the butter. Cover the pot and allow to boil for 10 minutes, or until the veggies are soft.
Use an immersion blender to blend the soup in the pot until it gets totally smooth. (If you don't have an immersion blender, allow the soup to cool and ladle it in batches into a regular blender. Please, for the love of God do not do this with hot soup. Third degree burns are not a cute look. Return the blended soup to the pot).
Bring the soup back up to high temperature, use more stock until you like the consistency, and taste it! Continue to season with salt, pepper, butter, or spices until you love the way it taste and feels. Garnish with sour cream, cilantro, and limes.
For the pepitas
2 cups of pumpkin seeds
4 tablespoons of canola oil
1 tablespoon dried chili powder
2 tablespoons of salt (ONLY if the pumpkin seeds are not pre-salted)
1 tablespoon black pepper
½ tablespoon garlic powder  
Turn your oven on to 375 degrees. Pour all of the ingredients into a bowl, mix them around until the pepitas are coated, and throw them onto a baking tray (preferably lined with parchment paper so you don't have to worry about cleaning up later), and bake them for 5-7 minutes, or until you can smell how delicious they are and see how lovely brown and toasty they have become.