Permanent link
All Posts
Eight ways to give gifts that give back this Chanukah
12/08/2009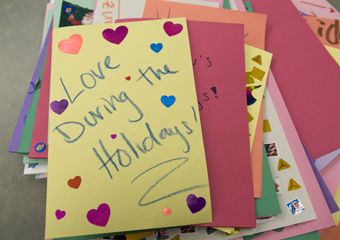 © 2008 Robert Kusel
It's almost time to watch the candles burning bright in the menorah, but it's more important than ever that Chanukah doesn't burn a hole in our pockets. If you're looking to do something meaningful (and cheap) for your family and friends this Chanukah, take a look at some of these great ideas and volunteer opportunities:
1) Volunteer
The JUF TOV Volunteer Network's winter calendar of one-time volunteer projects, Merry Mitzvot, offers many opportunities to give back during the holiday season. From sorting donations to serving food, you are sure to find a way to make your holidays more meaningful. Sign-ups are open now and projects run through Friday, January 1, 2010!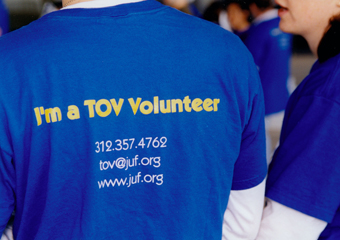 © 2008 Robert Kusel
Here are just a few:
• Pick up Chanukah and Christmas gift donations at parishes, schools or businesses in the city and suburbs and help distribute them to recipient families through the Cathedral Shelter of Chicago. The Shelter's mission is to minister with love and compassion among and with the most vulnerable of our community—particularly those who suffer from addiction—through crisis intervention, addiction recovery, community assistance and life-skills development.
• Sort and take inventory of toy donations, process gift request forms and fill orders for Catholic Charities' Celebration of Giving, a month-long effort to collect gifts for many of the children and families served by Catholic Charities. This 59-year tradition brings the spirit of the holidays to agency clients who struggle with desperate and crisis situations, by creating a memorable holiday season for the nearly 12,000 children served through the Toy Shower and the 500 families assisted through Sponsor-a-Family.
2) Donate
• Send gifts, checks (of any size) or find other ways to give something small to your eight favorite charities—one for each night.
3) Get creative
• Instead of fighting the crowds at Macy's and Nordstrom this year, make your gifts yourself. This can be a great project to do with kids. For some fun ideas, visit www.creativejewishmom.com.
• Fill holiday bags with toiletries and decorate cards to be distributed to clients of the JUF Uptown Cafe  at Christmas brunch Sunday, Dec. 20 at the JUF headquarters, 30 S. Wells St.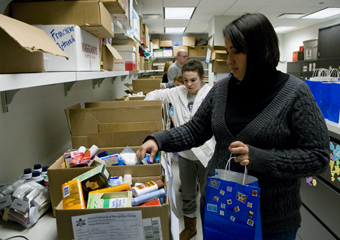 © 2008 Robert Kusel
4) Help out a friend
Do you know someone battling illness, struggling with the economy, or taking care of a new baby? Help them out this Chanukah by preparing dinner, offering to babysit or just giving them some time to relax.
5) Be a friend
• The Friend Center, located at 1601 Lake Cook Road, is home to 35 people with early Alzheimer's and other cognitive impairments. Volunteers are needed to escort residents and serve refreshments at the center's Chanukah party Tuesday, Dec. 15, and New Year's Eve party Thursday, Dec. 31.
6) Help someone dress for success
• Bottomless Closet, located at 445 N. Wells St., provides professional clothing, job readiness and post-employment training and coaching services to women on assistance and working-poor women. Help sort clothing inventory into categories: designer, professional, and unsuitable, Wednesday, Dec. 16.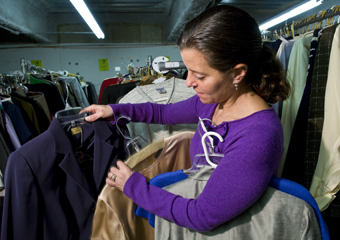 © 2008 Robert Kusel
7) Spread holiday cheer
• The Night Ministry connects with Chicago's vulnerable youth and adults, providing basic supplies, self-care supplies, free health care, housing and supportive services for youth, referrals to other resources, and more. Volunteers are needed to set up, prepare and serve food to clients, facilitate activities, distribute stockings, and clean up at the Night Ministry's holiday party Thursday, Dec. 17 at Holy Trinity Lutheran Church, 1218 W. Addison, Chicago.
• Process, sort, and organize donated gifts for The ARK's clients from the Chanukah Gift Wishes program Wednesday, Dec. 9 at 6450 N. California.
8) Pay a visit
• Play bingo and socialize with the residents of the Brentwood North Nursing and Rehabilitation Center, which has provided long-term, sub-acute and rehabilitation services for over 100 residents for more than 25 years. Volunteers are needed for the evening of Monday, Dec. 21 at 3705 Deerfield Road.
• Chabad/Northwestern Memorial Hospital's Visitation Program meets every Friday to pack and deliver Shabbat packages to Jewish patients at Northwestern Memorial Hospital, 251 E. Huron. Volunteers are needed for Dec. 4, 11 and 18.
Sign up to volunteer  or learn more about TOV's Merry Mitzvot program at  www.juf.org .