Permanent link
All Posts
03/17/2009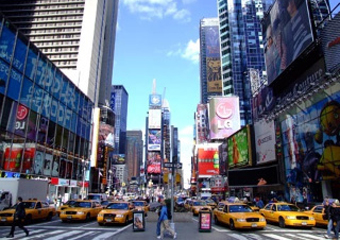 Anyone who has ever been married, or had a serious long-term relationship, knows that there are temptations everywhere. Even the most devoutly monogamous person can find herself drawn in other directions, intrigued by the new. If you are smart, your crush remains chaste; taking the best of what is possible, breaking neither trust nor vows. After all, there is nothing wrong with building a deep friendship; even if underneath that friendship is the tacit understanding that in a different world, in a parallel reality, the boundaries would be very different. If you are less disciplined, the passion takes over and you can find yourself in a full -fledged affair of the heart.

And so it is for me.

I am very happily married to Chicago, would never dream of living elsewhere, cannot imagine a life as full or rich as the one I have here. I want to spend all of my remaining days in my glorious apartment, which could not exist anywhere but on Logan Boulevard. I need everything about this city, up to and including our ridiculous weather, our endlessly heartbreaking sports teams, our amazing culture and, it goes without saying, our spectacular food. I need it like I need oxygen. This city feeds my soul, and I am grateful everyday to live here. As much as I love traveling to far-flung reaches of the planet, even taking extended multiple month trips, Chicago waits for me, and I've never thought for a second of leaving it. I'm not really meaningfully me in any sense without Chicago. I am the fifth generation of my family to call the city home; Chicago is in my blood and bones.

But I'm totally sleeping with New York.

I could never be married to New York. New York is moody, and expensive, and fickle, and that bad-boy edge which is so irresistible in a lover, would be a huge impediment to making a life together.  New York is impulsive, loud, brash and occasionally cruel. New York would never remember to take the garbage out, would be rude to your mother and would flirt with your best friend. New York wouldn't always come home at night. New York would forget the mortgage payment and chip the good china. New York doesn't apologize. But for a little something on the side, New York is both irresistible and ideal. I have a wonderful group of friends there, people to play with. A great spa where I can get a mani/pedi almost as good as Margaret's at EBella. A hairdresser who can give me a blowout almost as good as Michael's at Fringe. I have a regular hotel where they know that I like the rooms that end in the number 10, down pillows not foam, extra towels, and a fridge in the room.

And if you, like me, despite your deep and powerful love and connection to your hometown, occasionally need a wicked little fling…New York is the place to sow your outlaw oats.

In the past few years I've been spending more and more time in the Big Apple, traveling there for work and play, sometimes as often as once a month. I've gotten past the awkward first stages of the relationship, when you are on pins and needles all the time, not really quite yourself, unsure and a little lost, still jumping out of bed first thing in the morning to fix your hair and brush your teeth. I'm now solidly in the best stage, when you feel like you can be yourself, are free and uninhibited, when you know your way around and have figured out exactly what works best. I know where things are, which streets to take, when to jump on the subway and when to hail a cab--and most importantly, where to eat.

Here is just a small round up of some of my favorite New York spots; these are places that are dependable, places that I have been to with regular success and joy. Some will be familiar to you; some are the kinds of places that only locals really know about. All will deliver for you. But be careful…New York is powerfully seductive, visit at your own risk.

The Morning After: 
Breakfast/Brunch

Norma's (in the Parker Meridian Hotel)
118 W. 57th @ 6th Ave.
Pricy, but worth it. Succulent eggs, amazing French toast, perfectly crispy bacon, and they bring the hot chocolate with a whole separate bowl of whipped cream on the side. Enough said.

The Cupping Room
Corner of Broome and West Broadway
Charming little café, you'll have to wait on the weekends, but they turn their tables pretty quickly and the wait is worth it. I go for the omelets every time, and the breads are spectacular.

H&H Bagels
2239 Broadway @ 80th St.
1551 2nd Ave. between 80th and 81st
The classic New York bagel.

Gossiping with the Ladies:
Lunch

For some reason in New York, for lunch I always seem to want French bistro food. And they have some of the best! Here are my top three:

Balthazar



80 Spring St. between Crosby and Broadway
Yes, this place was heavily featured in Sex and the City, and continues to be a scene, but it also has spectacular basic French bistro lunches. If you're starving, go for the classic onion soup and the Croque Monsieur, the best grilled ham and cheese ever. I prefer the sautéed skate wing with brown butter or one of the salads.  And if you are really hungry, hit the steak frites, great juicy steak with a pile of perfect crisp fries.

Café Cluny
284 W. 12th St. @ West 4th St.
I know it so isn't French, but they have one of the best burgers I have ever tasted. Ditto the lamb Bolognese. And don't skip their take on the warm goat cheese salad…this has watercress and green apples and a terrific shallot vinaigrette.

Café Luxembourg
200 W. 70th @ Amsterdam
Chicken paillard. Full stop. And start with whatever the soup of the day is, they are all fantastic.

If you are in the mood for New York Deli, you aren't going to beat Katz's, 205 E. Houston St. @ Ludlow St. And yes, you can sit at the table where Meg Ryan faked her famous orgasm. Hit the corned beef or pastrami hard, grab a matzo ball soup, and either a Black Cherry, Cream Soda, or Cel-Ray tonic. Perfection.






And for something a little different, try Cabana for Cuban food, 1022 3rd between 60th and 61st, the best black beans and rice in the city, and classic entrees like arroz con pollo and paella. I like to go and just order appetizers for lunch, especially the beef empanadas, and the tostones rellenos with chicken.

A Little Nibble:
Afternoon Snacks

New York is a walking city, and you are going to need sustenance. Never be afraid to grab a hot pretzel or a Gray's Papaya hot dog along the way. But these places are worth making a special trip for:

Alice's Tea Cup
156 E. 64th and Lexington
220 E. 81st between 2nd and 3rd Aves.
102 W. 73rd between Amsterdam and Columbus
I go for either crepes (Nutella with bananas, or strawberries with whipped cream) or scones with cream and jam, and a pot of tea. A great place to go with kids, their "menu for the small" is fun, and you'll be tempted to order off it yourself.

Magnolia Bakery



401 Bleeker @ W. 11th St.
200 Columbus @ 69th St.
I know that everyone talks cupcakes here, and do not mistake me, they are serious contenders. But for me, it is all about the banana pudding. Fresh vanilla custard layered with Nilla wafers, fresh bananas and whipped cream. Get the small cup, it is too rich for more.

Rice to Riches



37 Spring St. between Mott and Mulberry
Rice pudding. All rice pudding all the time. Sixteen daily flavors that change, amazing toppings like roasted peaches and cherries and buttered graham cracker crumbs. Chic little spot to rest for a half an hour in the afternoon, or to hit for dessert after dinner. My favorites are: chocolate hazelnut, caramel, traditional vanilla, and peanut butter. I know many of you are saying "I don't like rice pudding." And to you I say, yes, you do, you just don't know it yet.

Minamoto Kitchoan
608 5th St @ 49th (enter on 49th)
Gorgeous traditional Japanese sweets. Not your usual snack, and some very unique flavors, but these little jewels are tasty pieces of art. I especially love the whole cherries suspended in peach jelly.

Payard
1032 Lexington between 73rd and 74th St.
The bistro is good, but pricy, but the pastries are totally worth an afternoon visit. Basics like éclairs are always delish, but try some of the classic macaroons. Glorious.

The Big Date:
Fancy Dinner

DB Bistro Moderne
55 W. 44th between 5th and 6th Aves.
Daniel Boulud can do no wrong, in my eyes, and the food in this warm lovely room is impeccable. I start with the orechiette pasta with lamb ragu and goat cheese, and the arugula salad is a triumph. The halibut with cauliflower risotto is amazing, and the hanger steak (one of my favorite cuts) is transcendent.  But if you're craving classic French, you'll never find a better Coq Au Vin or Blanquette de Veau. I could eat here every night, although it would put me in the poorhouse. Let them recommend a wine, the white burgundy they suggested last time I was there was beyond perfect. And be sure at least one person at your table gets the Apple Tarte Tatin for dessert.

Perilla
9 Jones St. between Broadway and 6th Ave.
For you Top Chef fans, this is Harold Dieterle's (winner of season one) restaurant and he clearly won for a very good reason. His food is amazing. I start with either the crispy pork belly, the seared scallops or the duck meatballs…all beautiful and complex without being fussy. For entrée's, the game hen is juicy, wrapped in bacon and anointed with pomegranate molasses, resting on a bed of perfect spaetzle. The steamed black bass is ethereal, and makes you feel almost virtuous. And the braised Elk osso bucco is a dish so good you want to jump in it. Get a side order of Brussels sprouts leaves. And for dessert, the vanilla doughnuts and sticky toffee pudding will fit the bill.

Alto
11 E. 53rd St. between Madison and 5th Ave.
Chef Michael White, formerly of Spiggia and Fiamma is an old family friend, lucky for us, and does fine-dining Italian better than anyone. For appetizers, get the scallops or the octopus. Pasta is all done in-house and is uniformly amazing, extra points for the butternut squash ravioli, the duck and chestnut maccheroni, and the gnocchi (and I am not a gnocchi fan!). If you're in the mood for fish, go for the branzino with black olives, and if meat is on your mind either the rack of lamb or the veal chop will make your night. Save room for dessert, the torrone is rich with chocolate and hazelnut, and bombolini lemon custard filled doughnuts will haunt your dreams.

The Less Big Date:
Moderate Dinner

Fabio Piccolo Fiore
44th between 2nd and 3rd Aves.
This is your basic Italian restaurant with a twist…if you don't see it on the menu, they will make it for you. Really. Their menu dishes are very good, veal marsala or piccata, excellent pastas, the menu won't surprise you, but you will find plenty to choose from. But I come here when I most wish I had a kitchen. When I'm sad that I can't just make something simple for myself. On my last visit I looked at my waiter and said " I need pappardelle, light sauce…just some olive oil and lemon, no garlic, maybe some chicken breast and, um, zucchini?"  Without even pausing he said "Very good, some capers, yes?"  Sigh. "Yes, please."  The dish arrived, was topped with a flurry of Parmesan, and was exactly what I wanted. Moist chunks of chicken, zucchini slivers perfectly cooked, al dente pasta and just the barest anointing of lemony sauce with a scattering of capers. Almost like being at home.

Josie's East
565 3rd Ave. between 37th and 38th Sts.
This is always where I go when I'm meeting vegetarian friends. The organic cooking has plenty that is great for veg-heads and carnivores alike, and they often have innovative specials on the menu. Start with the potato-broccoli dumplings or a salad. I love both the roasted chicken and the rib eye, and my vegetarian buddies swear by the tofu with fried brown rice and veggies.

Prune
54 E. 1st St. between 1st and 2nd Ave.
Intimate and cozy, this East Village gem is worth making a special trip for. The roasted marrowbones are an amazing luxury, and the Parmesan omelet is a unique starter. For entrees, I go for the roasted capon, which is chicken to the tenth power, and the lamb blade steak, a great and often overlooked cut. For side dishes, try the cardoons, which taste like the perfect combination of artichoke and celery, and the bitter greens are a bright and fresh accompaniment to the rich meats. Stick to the fruit desserts, I like the apple galette in its own caramel, and the fried sugared figs.

The Cheap and Easy:
Inexpensive Dinner

Sometimes you don't want to dine, you just want to eat. Whether picking up to take back to the hotel, or just grabbing something quick before the theater, you shouldn't have to end up at some fast food grease palace.

Ippudo
65 4th Ave. between 9th and 10th streets
If you've only ever eaten ramen as those salty packaged blocks we all survived on in college, you've never really eaten ramen. And frankly, for a good quick meal on the go, a bowl of hearty broth with great noodles and add-ins can't be beat. I love the Pork Ramen Classic - Shiomaru Moto Sji Ramen with  Berkshire pork chashu, cabbage, and scallions. They also have versions with miso broth instead of pork broth, and a vegetable version. Yum.

Grand Central Market
Grand Central Station, Lexington Ave. between 44th and 43rd Sts.
Am I actually recommending you grab dinner in the train station?  Hella yeah. Grand Central Station has the best freaking food court and market I've seen, and you can get the perfect NY breakfast, lunch, snack or dinner. Best of all, you can wander and cobble together a great meal from several different vendors, so if you want famous Junior's cheesecake after your rotisserie chicken, its right there for you. Dishes, in the Marketplace on the upper level has great prepared foods, and on my last trip, in need of a decent meal I could take back to the hotel, I picked up a rosemary lemon chicken breast, tomato and smoked mozzarella pasta, and a fennel salad. A roll from the nearby bakery, and a piece of fruit from the produce stand, and I could feel sated and healthy, and very deserving of a night in with the Turner Classic Movie channel.

Moonstruck Diner
400 W. 23rd St. at 9th Ave.
Classic diner menu, good service, reasonable prices. Eat in or take out. I love the patty melts…but you'll be fine with any of the basic menu items.

If you have favorite New York haunts, be sure to share with the class.

And don't worry. If you decide to have your own affair with New York, I promise not to tell Chicago.

Yours in good taste,
Stacey
www.staceyballis.com 

NOSH of the week:  This is plenty of food, so this week, if you're tempted to head to NY for a romp and don't have a couch to crash on, you'll need to get a decent night's sleep. I have become very loyal to the Fitzpatrick Hotels. They have one on Lexington between 56th and 57th street, and one on 44th between Lexington and 3rd Ave. A small Irish hotel group, both of these Midtown locations are lovely and with their own unique charm, and both are walking distance to Grand Central Station, which is my best hub for getting around (the Shuttle to Times Square is a godsend). Impeccable friendly service, comfy beds, decent sized-rooms for NY (expect smaller than you are used to by Chicago standards) and very reasonable prices. Not over the top luxury, but for business travel, you'll find yourself comfortable and well taken care of.

NOSH food read of the week:  Mouth Wide Open  by John Thorne.