Permanent link
All Posts
01/20/2009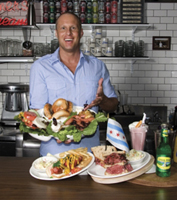 Brad Rubin, serving up a hearty meal of Jewish culture at Eleven City Diner
Photo Credit: Helen Maureen Cooper

Brad Rubin grew up on Jewish delis and diners. In his lifetime, Rubin has traveled by car and motorcycle across America — all 50 states — always stopping for a bite at diners and delis along the way. Rubin, originally from Chicago's northern suburbs and now a South Loop resident, worked at 24 restaurants in 23 years, including Chicago hotspots MK, SushiSamba Rio and Bin 36. Recently, he broke out of fine dining to return to his culinary roots. In 2006, he opened Eleven City Diner, a deli/diner hybrid named for the street the restaurant sits on in the South Loop. The diner is Rubin's way of tipping his hat to the old school diners that are disappearing from Chicago's street corners.

Eleven City Diner serves up a huge menu of favorites, including Chicago-centric dishes like "The "Springer," a corned beef and pastrami sandwich and Jeff Garlin's Veggie Cob. Rubin's business is a family affair — his parents, beloved by Eleven City regulars, help out at the diner on weekends and holidays. Patrons dub his mother "The Lollipop Lady," because she's famous for handing out multi-colored lollipops to the restaurant's youngest diners. And Rubin's father is the resident soda jerk, who awards members of the "clean plate club" with gold stars.

So whether you're nostalgic for the diners of yesterday, are impressed by nice Jewish boys who call their mothers, or you just really love a big pastrami sandwich, Brad Rubin is a Jew you should know!

1. What is your favorite blog or website?
Favorite? Tough one. I, of course, love Heeb.com  (Heeb named Rubin in its top "Heeb 100" in the food category.) I also like this cat named David Sax from www.savethedeli.com, a site devoted to the preservation of the Jewish delicatessen. I love his ideas and why he is doing what he is doing. Plus, he is so damn funny.

2. If time and money were limitless, where would you travel?
I would buy a time machine and travel back in time…

3. If a movie was made about your life, who would play you?
Philip Seymour Hoffman or Natalie Portman.

4. If you could have a meal with any two people, living or dead, famous or not, who would they be? Where would you eat or what would you serve?
a) With the Poet Rumi and the woman I love.
b) In front of the large second story bay windows in this beautifully strange guesthouse in Fez, Morocco.
c) Whatever they were cooking up that day.

5. What's your idea of the perfect day?
In this order: Waking up early with the sun, a hard workout, a quick shfitz, exploring and disappearing in a chaotic Asian fish market somewhere far away, eating something green and light, a power nap, a good steam, a great piece of fish for dinner at the perfect joint, a nice walk to walk it off, a brilliant film, a stop off at the Fudge Pot for dessert, a late night piano bar for no more than two tunes…sleep.

6. What do you love about what you do?
I'm Jewish—I love to entertain, I love to eat, I love to feed people, and…oh yeah… I love to make shekels. I do realize how fortunate I am to be in love with what I do.

7. What job would you have had if not the one you have now?
I have had no fewer than 42 different jobs in my young 39 years.  I hope I keep evolving and reinventing myself. What next? This one has some legs on it still…

8. What's your favorite Jewish thing to do in Chicago? In other words, how do you Jew?
Let's see. I go to Manny's on Jefferson on a Saturday afternoon or hit Chinatown and a movie on Christmas. I love to go to the Spertus for a lecture and then over to see Clara at Russian Tea Time. And of course, I call my mother. I work seven days a week and have little time outside my work to enjoy many things. Being Jewish, for me, is so deeply and strongly attached to the culture itself. I'm in a Jewish diner/delicatessen everyday. I see the grandparents taking in their grandchildren for a lunch of matzoh balls and egg salad sandwiches and a lollipop before heading out the door. I have heard stories from Holocaust survivors while standing by the coffee makers, I see families meet to get their nosh on for breaking the fast, birthdays, Rosh Hashanah and even Christmas (when there is nowhere else to go).  I get to see the old school machers and snow birds slowly shuffle in with big smiles and stories to tell every day. I am honored they come here. The feeling I get from "hosting" all this everyday is wonderful.  I love the "Jewish-ness" of it all. The culture so many of us grew up with is a big part of my heart.  I guess you could say I "Jew" everyday.