Permanent link
All Posts
11/15/2011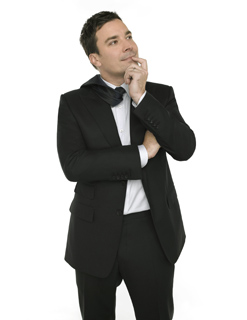 Have you ever seen the YouTube clip of late night talk show host Jimmy Fallon impersonating singer Neil Young—with Bruce Springsteen as himself—singing a duet of Willow Smith's Whip My Hair? If you haven't, this article can wait. Go watch it and then come back…
…It's hilarious, right? The comedian's impersonations are all that spot-on, from Barry Gibb to John Travolta, Robert De Niro, Eddie Vedder, Jerry Seinfeld, and even Chris Rock.
You can catch Fallon and his many personalities at the Young Leadership Division's (YLD) fourth Annual Big Event, on Saturday, Dec. 10, at 8pm, which will launch YLD's 2012 Campaign and feature an evening of stand-up comedy with Fallon, a comedian, actor, writer, and musician. The event, to be held at the Sheraton Chicago, will include dessert reception, open bar, after party, and late night bar food.
Last year YLD's Big Event, which featured comedian Sarah Silverman, drew more than 1,500 people, making it the single largest YLD event in history. This time around, YLD hopes to attract an even larger crowd—both to entertain and spread the word about the vital work of the Jewish United Fund/Jewish Federation of Metropolitan Chicago."It will be a historical night for the YLD community as we are expecting a record-breaking number of people," said Jimmy Sarnoff, YLD's 2012 Campaign vice president.  "Not only is Jimmy Fallon the biggest name to perform at any JUF YLD event, but he is one of the biggest names to perform at any Federation event throughout the country."
Fallon's star keeps rising these days. He carries on the Late Night legacy, begun by David Letterman and Conan O'Brien, and premiered the NBC talk show Late Night With Jimmy Fallon in March of 2009. When you watch Fallon's show, perhaps one last laugh before your head hits the pillow or maybe on DVR the next day, you get the feeling Fallon's just a really good guy. He's like a big kid in the best way possible, famous for "breaking," or cracking up, during his comedy bits. Fallon and his jokes are kind, charming, and playful, and he avoids mean-spirited jabs at people. "I don't like to kick people when they're down," said Fallon in an interview with talk show host Piers Morgan.
Born in Brooklyn and raised in Upstate New York in an Irish-Catholic home, Fallon was an altar boy at his church and almost became a priest. As kids, he and his older sister, Gloria, would reenact the "clean parts" of Saturday Night Live (SNL) sketches that his parents would tape for him. He idolized SNL his whole life, which proved prophetic when he was later cast on the show as a series regular.
Fallon got his big break after his mother told him about an impersonation contest at a comedy club in Poughkeepsie, NY. He created a stand-up routine based on a commercial for troll dolls, inspired by a troll doll he received before graduating high school. He won the contest and, after dropping out of college, toured the country doing stand-up gigs. He later relocated to Los Angeles and joined the famous improvisational comedy troupe, The Groundlings.
After one failed audition for Saturday Night Live, he returned for a second try and landed his dream job on the sketch comedy showfirst as a featured player in 1998 and then as a full cast member in 1999. As both a comedian and musician, who has made a career out of mixing his comedy and music, he incorporated his signature song parodies into the show. In 2000, he became co-anchor of SNL'sWeekend Update with Tina Fey. Then, Fallon left the show in 2004 to pursue a film career. He returns home to host Saturday Night Live's Christmas episode on Dec. 17, one week after YLD's Big Event.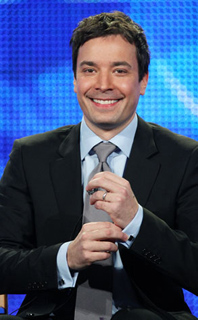 Fallon, who lives with his wife in New York City, has acted in a string of films, including a starring role opposite Queen Latifah in the 2004 action comedy Taxi. Then, in 2005, he starred alongside Drew Barrymore in the Farrelly Brothers' romantic comedy Fever Pitch, about how a man's obsession with the Boston Red Sox gets in the way of his romantic relationship. He's also a go-to host for award shows, including the MTV Music Awards and the MTV Movie Awards.
This past spring, he and his fellow Late Night writers released a humor book called Thank You Notes (Grand Central Publishing)—based on a popular segment from his talk show—expressing gratitude for everything from microbreweries for making alcoholism look like a fun hobby to "haters for giving rappers so much to talk about."
The talk show host isn't the only one doing the thanking these days. The ice cream guys, Ben & Jerry, wanted to thank Fallon and his late night crew for singing an ode to Ben & Jerry's by creating a flavor inspired by the talk show host and his show. The new flavor, Late Night Snack, is a combination of the salty and sweet—vanilla ice cream, fudge covered potato chip clusters, and salty caramel swirl. But if the ice cream's anything like the guy who inspired the flavor, it's probably less salty and more sweet.
Tickets to YLD's Big Event—ages 21 and older—cost $80 per person (not tax-deductible) and require a gift to the 2012 JUF Annual Campaign. If you are a Birthright Alum, discounted $25 tickets are available here courtesy of the Birthright Israel Foundation. The minimum requirement is a match or increase to your previous JUF gift. If you have not given to JUF in the past, you are required to make a gift. Attendance to the event signifies your consent to make a donation, which can be paid through December 2012. Advance registration is required and space is limited. Register online here. For more information, contact the YLD office at (312) 357-4880 or yld@juf.org.