Permanent link
All Posts
10/18/2011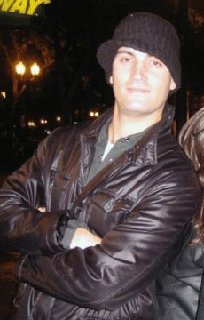 Do you want fries with that? How about a side of mac & cheese? Deviled eggs? That's what the waitress asked after ordering our burgers at DMK Burger Bar in Lakeview. (2954 N Sheffield Ave, 773-360-8686). 
Venue  
Upon walking into a packed house and learning of a 45-minute wait, I was surprised to learn that DMK Burger Bar is able to quickly turn over tables in such a small space. Unlike the likes of places like Kuma's Corner where a fantastic burger takes a couple hours to get through, a quick and upscale type burger is great when you're trying to get to an early movie in Chicago. The bar is owned by MK's Michael Kornick and David Morton, and pushes the fact that every burger is a flat $8 with lots of cheap side choices. They also offer Veggie, Turkey, and Lamb Burgers among others.
Most recently, DMK Burger Bar was featured on Food Network's Diners, Drive-Ins and Dives. Guy Fieri cooked for hours with Chef Michael Kornick in the kitchen, interviewed a restaurant full of diners and ate some great grub. The #5 bison burger and Parmesan truffle fries were among Guy's favorite bites.
Burgers 
One burger that was among the elite was the #6, Grilled Portobello with Blue Brie, Griddled Scallions, and Dijonnaise for $10. The bun was perfection, soft yet kept the burger together, unlike some places that the bun becomes too soft and begins to fall apart. The juices and sauce weren't messy which made for a nice experience of not having to clean up my hands every time I took a bite. If you don't plan to come for dinner, the beer selection is extensive with many local and regional craft brews but not a lot of space to socialize unless you are eating.
Sides 
What really sets DMK apart from other burger places is the side dishes. Burgers don't come with a side of fries but be sure to check out the list of different types they have. I tried the Sweet Potato Fries with Lemon Tabasco Aioli and the Sea Salt & Black Pepper with House Ketchup. Each side is either a small portion of $2, with the larger to share of $4, but you may as well try all the different types and take the small portions.
Etc.
Make sure you stop by Monday-Friday before 7 p.m.; they won't ask you if you want fries with that. That's when they are free. If I can offer some advice for a side: Mac & Cheese #1 with Aged Cheddar and a Parmesan Crust, with the Stone IPA beer. The restaurant isn't 21 and over, and if you are with little ones, they have a great Malted Milk Shake and house-made sodas available.