Permanent link
08/28/2012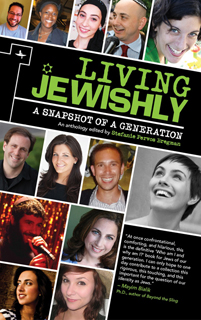 We wanted to let you know about a very exciting new book: Living Jewishly: A Snapshot of a Generation, a collection of personal essays and memoirs from Jewish 20- and 30-somethings from across the country.

Edited by Oy!Chicago blogger-in-chief Stefanie Pervos Bregman, the anthology features many of your favorite past and present, Oy! bloggers including: Blair Chavis, Sharna Marcus, Rivka Nehorai, Rachel Friedman, Rabbi Taron Tachman, Paul Wieder, Chai Wolfman, Abby Sher, Libby Ellis Lowe, Stacey Ballis and Alyssa Latala.

Actress and author Mayim Bialik had the following to say about the anthology:
"At once confrontational, comforting, and hilarious this is the definitive 'Who am I? and why am I?' book for Jews of our generation. I can only hope to one day contribute to a collection this rigorous, this touching, and this important for the question of our identity as Jews."
— Mayim Bialik, Ph.D., author of Beyond the Sling

Each contributor brings a unique perspective as they tell their self-defining Jewish story. In his essay, "Shomer Negiah in the City," Matthue Roth tackles the conflicted and sometimes hypocritical nature of the modern Orthodox dating world. In "To Be a Jew in the world" Stacey Ballis makes the Passover Seder her own. "My (Jewish-Interfaith-Lesbian) wedding," by Chai Wolfman explores the challenges of same-sex and interfaith relationships today. Other essay topics include JDate, connection—or lack thereof—to Israel, issues surrounding conversion, and the seemingly impossible task of defining what it means to be a young Jew in America today.
However it is that we young Jews express ourselves Jewishly, I'm certain that every Jewish 20- or 30-something has an interesting story—and maybe all we need is the opportunity to tell it.
For more information about where to buy the book, the contributors and how you can share your Jewish story, visit www.livingjewishlybook.com or at www.facebook.com/livingjewishlybook.