Permanent link
06/21/2011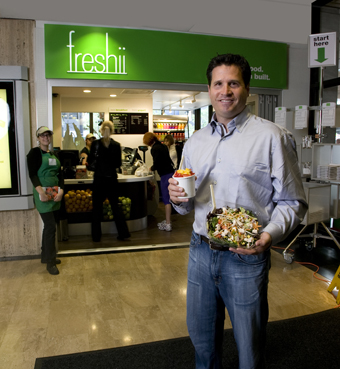 For Chicago native David Grossman, it's all about fresh, convenient and healthy food, which is exactly what his restaurant Freshii embodies. Grossman is the president of Freshii and has opened numerous locations in the Chicago area as well as in 12 other cities including Los Angeles, Toronto and Dubai. Grossman is confident that Freshii is here for the long haul because he has extensive experience in the restaurant industry and knows that choosing to eat healthy food with no preservatives, no grease fat fryers and no open flame is not a fad people are just trying out for a while, but a lifestyle.

So whether you love healthy eats, have dreams of being an MLB ump or want to travel to India, David Grossman is a Jew You Should Know!
1. What is your favorite blog or website?
I am not really the blogging type, but CNN is my default page, it's where I get my news and sports.
2. If time and money were limitless, where would you travel to?
I have done some traveling in the past, but I would like to go to India. I love the food, the architecture and the history.
3. If a movie was played about your life, who would play you?
Some very handsome man, that's for sure. I would go with George Clooney.
4. If you could have a meal with any two people, dead or alive, famous or not, who would it be?
My dad and Jim Morrison, because he wrote a great book titled "No one gets out of here alive."
5. What is your idea of the perfect day?
Wake up and have breakfast with the family, then go golfing with my three closest friends and get a hole in one—Have some beer with my friends after golf, go to dinner with my family and my extended family, and then come home and have some quality time with the wife.
6. What do you love about what you do?
I love that every day is something different—there is always a problem, or an obstacle to overcome and it is my job to deal with it and fix it. I also love teaching my interns and employees and watching them learn and grow as people as well as within the business.
7. What job would you have had if not the one you have now?
I would want to be an MLB umpire or an announcer for the NBA, MLB, or NFL.
8. What is your favorite Jewish thing to do in Chicago?
Going to the Eleven City Diner and getting the Big Macher with diet Dr. Brown black cherry soda.