Permanent link
05/28/2013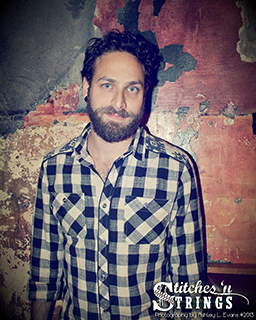 Reality TV singing competitions are raining from the skies these days, so you might've missed Chicago's Todd Kessler on Season 3 of NBC's The Voice, which aired last fall. Fair enough; even if you're an addict of the show, you might not remember his lone performance with Team Cee Lo, facing off against eventual third-place finisher (and now friend) Nicholas David.
But Kessler's proverbial 15 minutes of fame aren't up by any means. The 31-year-old Northbrook native and University of Illinois alum has parlayed his national TV spotlight into a prolific performing career in the city, both as a solo artist and as front man of the multi-piece band The New Folk, who just released their debut album, Sea Fever, now on iTunes.
Even if you've encountered Todd's moving vocals before at Lincoln Hall, Millennium Park, the Double Door or elsewhere, you might not know that he loves to teach. He has been teaching Jewish music at Chicago Sinai Congregation for the last four years and also gives guitar lessons.
Kessler is definitely A Jew You Should Know, so why not get started tomorrow, May 29, by seeing him perform a solo acoustic set at Lincoln Hall (2424 N. Lincoln Ave.) at 8 p.m.? Or, you can see him with the band this Sunday, June 2, at Martyr's (3855 N. Lincoln Ave.) at 7 p.m.
1. What makes your and The New Folk's music something Chicagoans should be listening to?
Our music is a new take on Folk music that brings all kinds of influences to the mix to make a sound that is fresh. I call it Alternative/Folk/Pop, or Paul Simon meets Wilco meets Mumford and Sons.
2. How has being on The Voice changed you personally and professionally? (And are you still tight with Cee Lo?)
I have not seen Cee Lo since October when we were doing a show in Las Vegas, but working with him was a fantastic experience. Being on the show changed my life greatly both personally and professionally. I've met artists from all over the country, many of whom I have collaborated with on tour, and some of whom I have created life-long friendships with. Professionally, I've been getting better gigs since my time on the show and my fan base has really expanded.
3. What are the biggest differences between working as a solo artist and being part of a larger band/ensemble?
Working with a band is kind of like working in an office, except with your friends. When you show up to work you do what needs to be done, but after we get to go to the bar and grab a drink. It's extremely rewarding working with musicians that understand each other and genuinely love playing music together, but it is a lot of work to coordinate six schedules to find time to play gigs and rehearse. When I play gigs as a solo artist I only have myself to rely on so it is less stress in a way, but a bit lonely in another way. Nothing compares to sharing a stage with my friends and creating music.
4. If you could choose a popular artist to do a cover of one of your songs, who would it be and which song?
I think I would have Glen Hansard (of Swell Season fame) cover my song "Hallelujah." I am so inspired by how he performs and I think I could learn a lot by hearing his take of that song. The song itself is an emotional one and he is an incredibly emotional performer.
5. If you could put on your dream concert, what would it look like and who might it benefit? 
My dream concert would be at my favorite venue in Chicago, The Vic Theater, and it would be a huge jam session with all of my favorite artists: Paul Simon, Wilco, Glen Hansard, David Gray, Ryan Adams, M. Ward and Jenny Lewis, and some friends from the local scene as well thrown in the mix. We would choose for it to benefit an organization that would promote music and arts education in schools.
6. What do you love most about what you do?
When it comes down to it, my favorite thing about playing music is the opportunity to connect with people. Whether it's with the musicians I'm playing with on stage or the fans in the audience, being able to share stories and experiences is so rewarding. Music constantly reminds me that we are all connected.
7. In an alternate universe where you couldn't be a musician, what would you do?
Easy, I'd be a Fromager (cheesemonger). Cheese is my favorite food and if I could be surrounded by it all day, I'd be a very happy man.
8. What's your favorite Jewish thing to do (or how do you Jew?) in Chicago?
I love participating in musical Shabbat services. For the past few years I have been playing in a Shabbat band at my home synagogue (Congregation Beth Shalom in Northbrook) called "Shabbatone" and more recently have created my own trio to do more intimate Shabbat services. It's a really nice way to connect with people in a truly meaningful way.