Permanent link
Gabe Carimi joins the Chicago Bears 
05/31/2011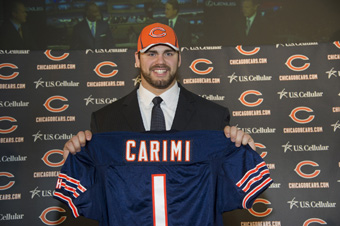 There's a new Bear in town—and he's Jewish!
Gabe Carimi, former co-captain and star offensive lineman of the Big Ten champion Wisconsin Badgers was the Chicago Bears' number one draft pick in 2011. At 6 foot 7 and 327 pounds, Carimi has already been appropriately nicknamed the "Bear Jew" after the character from the movie Inglourious Basterds; his other nickname is the "Jewish Hammer."
As a former Badger myself, I was excited to chat with Carimi about his time at UW-Madison and his new home in Chicago.
Originally from Lake Forest, Carimi grew up in Wisconsin, which begs the question: Bears or Packers?
"I grew up being a Packer fan, but obviously found the error of my way and now I'm glad I'm on the Bears," Carimi said. "I really did go into the draft process [thinking] the Bears would have been the best place for me to be. And I was really excited to get drafted by them."
Going into his first season as a Chicago Bear, he is most excited about playing in his first NFL game.
"I'm always going to try to achieve the best…" Carimi said. "Eventually I want to be working hard enough to be an All-Pro player. I know it's going to take a lot of hard work [but] it's nothing I'm not used to. Throughout college I had to work hard to get to where I was so [I'll] just keep working hard to try to become a great NFL player."
To say that Carimi worked hard in college would definitely be an understatement. In addition to his many accomplishments on the field—he received the Outland Trophy for his performance as offensive lineman, was named Big Ten Offensive Lineman of the Year, and he received Marty Glickman Outstanding Jewish Scholastic Athlete of the year award, to name a few—Carimi also made Academic All-Big 10 for all four years, maintaining above a 3.0 as a civil engineering major, which is no easy feat.
Carimi said his favorite football memory at Wisconsin was beating longtime Wisconsin rival Ohio State during a night game—which us Badgers know is the most exciting time for a game. Though he says he will miss Madison—the lakes and the cool college atmosphere of his hometown—he is looking forward to life in a big city like Chicago. He is also excited about getting involved in Chicago's Jewish community.
"I'm very proud of my Jewish identity," Carimi said. "I have fasted on game days for Yom Kippur and [broke the fast] right before the game, I know Matt Bernstein [former fullback for the Badgers] did that too. I look up to him and he did it so I felt strongly about doing that too."
Growing up, Carimi and his family went to a reform synagogue, Temple Beth El in Madison, and Jewish tradition was an important aspect of his family life.
"We always went to Temple on Friday nights," he said. "Seeing that love and faith made me want to be strong in my religion."
He does not view his Jewish identity as an obstacle for his professional football career.
"I looked up the next 15 years Yom Kippur won't happen on a Sunday, so it really helps out."
And with his height, stature, and skill on the field, Carimi is literally crushing the stereotype that Jews are not good football players.
Lastly, I asked Gabe the question Jewish mothers all over Chicagoland wanted to know—is he single?
"Haha, no I'm not single. I'm sorry, Jewish mothers all over Chicago."
Bummer. Well, Bear Down, Bear Jew! See you in September!