Permanent link
12/18/2012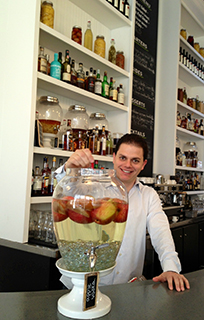 Josh Schonfeld is a partner and general manager of Grass Fed, a new, chic, modern steak restaurant in Bucktown. The star of the menu is their grass-fed sirloin steak, which comes with fries for just $25, but they also offer yummy sides and desserts. 
Before opening Grass Fed, Josh was most recently manager for Chicago based Lettuce Entertain You Enterprises, at Joe's Seafood, Prime Steak & Stone Crab in Las Vegas. Prior to moving to Las Vegas, Josh was General Manager for Vail Resorts at Beaver Creek's high volume on mountain restaurant, Spruce Saddle Lodge. 
A Chicago native, Josh graduated from American University in Washington, D.C. and he holds an MBA and master's degree in hotel and restaurant administration from the University of Nevada Las Vegas.
So whether you're a steak eater, love the show Private Practice or have been to over 75 countries, Josh Schonfeld is a Jew you should know!
1. What is your favorite blog or website? 
Anything that has to do with food or travel. I read the Eater and RedEye every day! I know, really I should watch the news more!
2. If time and money were limitless, where would you travel? 
Well, I have been fortunate to have been to over 75 countries, but nowhere in Africa or Asia. I would have to say South Africa, Thailand and Vietnam are all next on my list.
3. If a movie were made about your life, who would play you? 
Jason Alexander for his mannerisms and quick wit (not the belly :) ) 
4. If you could have a meal with any two people, living or dead, famous or not, who would they be? Where would you eat or what would you serve? 
Dr. Addison Montgomery from Private Practice. Not gonna lie, I have the biggest crush on her! And Rich Melman. I have learned so much about the restaurant business from him and really love what he has done with his restaurants in Chicago for the past several decades. 
5. What's your idea of the perfect day? 
Getting up around 9 a.m., hitting the gym, working a lunch/early dinner shift at Grass Fed, leaving work around 8 p.m., dinner with some good friends, and then head home to catch up on DVR.
6. What do you love about what you do? 
I love the daily interactions with my staff and my patrons. I could never sit at a desk from 9-5, I'd kill myself. I love being on the restaurant floor, talking with guests, running food, tasting wine with my staff, and never knowing what to expect the next minute. Every moment is unexpected—my flat top grill could be on fire, or a customer could be buying me a shot of tequila that I really don't need to be having!
7. What job would you have had if not the one you have now? 
I'd love to own a hotel/resort with several restaurants on site.
8. What's your favorite Jewish thing to do in Chicago? In other words, how do you Jew? 
I love going to the Bagel with my friend, Victoria, on Thursdays for lunch and having a good ole bowl of matzo ball soup and a turkey/pastrami sandwich. All their servers have known me since I was a baby.