Permanent link
10/29/2013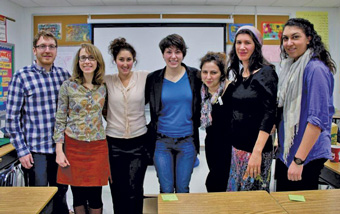 Pictured is the JCC Chicago PresenTense 2013 cohort: Scott Beslow, Claire Denton-Spalding, Jane Shersher, Lihy Epstein, Veronica Vyazovsky Zamir, Rachel Dreytser, Rachel Sumekh. Not pictured: Jeremy Weisbach.
For the third year in a row, JCC Chicago is providing an avenue for social justice activism interpreted through a Jewish perspective. JCC PresenTense Chicago, a largely volunteer-run, vibrant grassroots community of entrepreneurs, mentors and volunteers, invests talent and energy to foster innovation and revitalize our community.
JCC PresenTense Chicago engages young entrepreneurs and professionals within the Jewish community to develop ideas into transformational, sustainable and socially responsible ventures through an intensive, six-month Fellowship boot camp by tapping into the talents and passions of everyday professionals in our community. In turn, those mentors, coaches, and volunteers also grow their skills, knowledge, and networks as they invest their experience and energy to foster the next generation of social entrepreneurs and to revitalize our established Jewish community.
"All great innovators and creators need a fertile environment to grow their ideas," said 2012 Fellow Karen Berk Barak. "PresenTense is an organization dedicated to doing just that."
Each Fellow works closely with at least one mentor and coach who have volunteered their passion and expertise in guidance and support. The Fellows also attend monthly seminars learning business skills necessary to succeed as entrepreneurs.
Over the past two years, 20 Fellows have gained skills and connections while working on the development of socially responsible ideas into sustainable businesses. Fellows focus on many different social problems, but they all share an idealistic mission and an urgent desire to make our imperfect world a better place.
Past coaches and mentors are also inspired and enriched by this experience. 2013 Fellow Scott Beslow, founded Hydrophilic, a cloud-based application that connects household residents and organizations into a data-driven conversation filled with metrics, incentives, and social nudges.
"Judaism teaches a tremendous reverence toward water," said Beslow. "But as modern-day Chicagoans, it is difficult to assign value to something which is cheap and seemingly endless in supply."
2013 Fellow Rachel Sumekh founded Swipes for the Homeless as a student at UCLA. Students were asked to donate their remaining college dining hall meal credits to be used to purchase food for the homeless. Thanks to her Fellowship experience, Swipes continues to grow, with Sumekh now working as the first paid staff member.
"If you are inspired by our Fellows' ideas, and the social good that this program aspires to accomplish, check out our Web site and join us to learn more at an upcoming Social Innovation Night," said Becky Adelberg, JCC PresenTense Chicago Manager.
Professionals and business-savvy community members are also needed as mentors and coaches to guide Fellows in developing their visions into sustainable ventures. Volunteers are needed to engage, inspire, and drive PresenTense, overseeing and managing all aspects of the program with passion, vision and energy.
"It is more than just a volunteer program, it's a community of sharp minded, socially conscious people working together to create a safe place for budding social entrepreneurs to receive support, guidance and direction," said Jeremy Forman, a 2013 Coach, Advisory Team member, and Chair of the Launch Night. "Participating in this community gave me a feeling of deep satisfaction."
Forman is an example of how enthusiastic volunteers drive the program's success. "We believe that a supportive community of bold thinkers can change the status quo, improve the quality of life in Chicago and impact the world," he said.
With the support of a vibrant grassroots community, young entrepreneurs are enabled to take their ideas, build them into pioneering expeditions, and launch them into sustainable ventures.
Applications are now available for the 2014 Fellowship, through Nov. 12 at www.gojcc.org/presenTense.