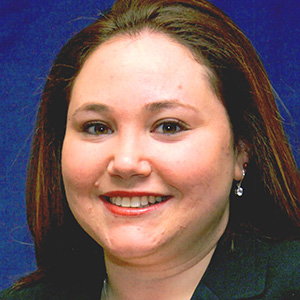 Some kids dream of growing up to be doctors or teachers, or maybe even astronauts or athletes. But Jamie Greenebaum knew from a young age that she wanted to be a funeral director. 
Hey, someone's got to do it.
Working as a funeral director at Weinstein & Piser Funeral Home, Jamie helps people feel at ease on one of the worst days of their lives, something she considers a privilege. The job also provides her opportunities for creativity in working with families to come up with a unique way to celebrate and honor their loved one's life.
Jamie also gives her time in more joyful settings, be it as a JUF LEADS leader, serving on the YLD Pride committee, or serving on the Illinois Holocaust Museum and Education Center Young Professionals Committee. Recently, she organized a partnership between Weinstein & Piser and the museum for its annual 5K race. 

Age:
28
Primary gig:
Funeral Director at Weinstein & Piser Funeral Home in Wilmette
On the side:
Talker, Hugger, Bringer-together, Dog-petter
Relationship status:
In a relationship
How do you give back?
As a part of my job, I exist to support people in one of the most trying times they will face. I don't take this role lightly. I want to be the "go-to" for families when they don't know where to turn. I also try to give back by being available — for planning, executing, advertising events; doing outreach for the causes I care about. I think a whole lot of "giving back" can be attributed to showing up — be it physically, financially, or supportively. Especially for LGBTQ Jews, seeing that consistency and base is important.
Celebrity doppelganger/who would play you in a movie:
My grandmother once told me I look "like that girl from Juno, but not pregnant." Thanks, Nana! I do actually love Ellen Page and I think she'd do me justice in a movie.
Chicago's Jewish community in 10 years:
Exciting. There's a massive surge of young, enthusiastic people putting their time and effort into improving the Jewish community — if anything, the community is growing and expanding. It's also diversifying — people are more welcoming of those who didn't previously "fit." I'm excited to see the positives that come from a multi-faceted Jewish community.